Stephen Alter, an American who has spent almost all of his life in India, is at his best when evoking the mystery and complexity of that country… (His) vision is both unsparingly realistic and compassionate. He is a sensitive observer with an unusual ability to see a foreign culture from the inside out, making its people alive and compelling to Western readers.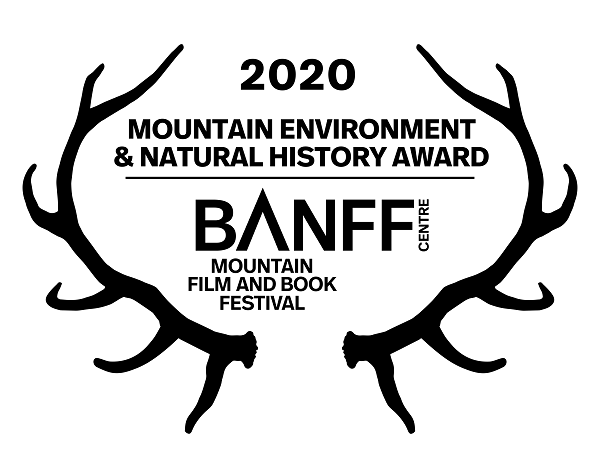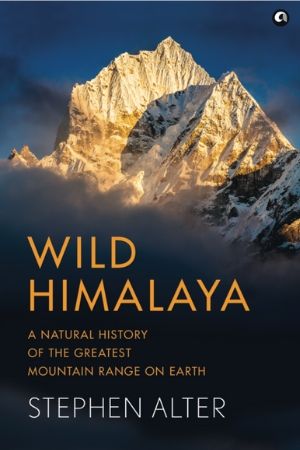 Wild Himalaya
The Himalaya span a distance of roughly 2,500 kilometres in length and between 350 and 150 kilometres in breadth, rising to a maximum height of almost 9 kilometres above sea level.
In Wild Himalaya, award-winning author Stephen Alter brings alive the greatest mountain range on earth in all its terrifying beauty, grandeur and complexity. Travelling to all the five countries that the Himalayan range spans—India, Pakistan, Bhutan, Nepal and China—Alter braids together on-the-ground reports with a deep understanding and study of the history, science, geology, environment, flora, fauna, myth, folklore, spirituality, climate and human settlements of the region to provide a nuanced and rich portrait of these legendary mountains.
Adding colour and electricity to the narrative are riveting tales unearthed by the author of some of the range's most storied peaks—Everest or Chomolungma, Kanchenjunga, Annapurna, Dhaulagiri, Nanga Parbat and others.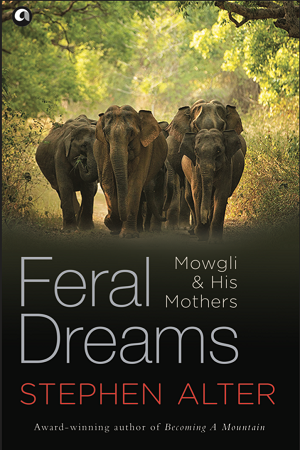 Feral Dreams: Mowgli and His Mothers
More than a century after it was first published, Rudyard Kipling's The Jungle Book remains one of the world's favourite collections of stories. Mowgli, the human child brought up by wild animals in the jungles of India, has imprinted himself on the minds of readers as one of the most-loved literary characters of all time.
In this fascinating novel, award-winning author Stephen Alter takes Mowgli's story forward in time, transposing the classic jungle tale into unexplored terrain, where animated movies and other adaptations have never gone before. We first see Mowgli as a boy being raised by an elephant matriarch, leader of a herd that lives in a wildlife sanctuary that he calls home. After a series of adventures, the story shifts to the discovery of a foundling deep in the forest. The rescued child is delivered to an orphanage run by an American missionary, Miss Cranston, in a dusty village on the Gangetic Plain.
Christened Daniel, the boy grows up, rebelling against the restraints of civilization, yearning for the jungles he was taken from, and ultimately settling into an alien, discontented life as an adult. Set against the backdrop of a newly independent India, and amongst a host of brilliantly imagined characters, Feral Dreams: Mowgli and His Mothers is at once a heartbreaking story about identity, love and belonging, as it is an exquisite ode to the fast-vanishing, beautiful and sometimes menacing jungles of India.
Becoming A Mountain
Searching for solace and healing, following a violent attack that left him physically and psychologically wounded, Stephen Alter sets off on a series of treks in the Himalayas to reconnect with the mountains of his birth.
He begins by approaching Nanda Devi, a sacred summit in Garhwal, named after the bliss-giving goddess. He then undertakes a pilgrimage that circumambulates Mt. Kailash in Tibet. And, finally, he attempts an ascent of Bandar Punch, a prominent mountain that stands to the north of his home in Mussoorie. This is a personal memoir about loss and violation, as well as a search for recovery and contentment in high places.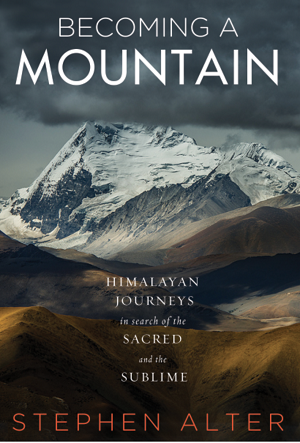 In the Jungles of the Night
Who was the real Jim Corbett? A hunter who tracked down marauding tigers and leopards. A naturalist who spoke the language of the jungle. One of the first wildlife photographers to capture images of large predators in their natural habitat.
A conservationist who voiced the earliest warnings about India's dwindling natural heritage. A legend whose knowledge of the forests of India and the birds and animals that he encountered was unsurpassed. His bestselling books on shikar and jungle lore have inspired generations of wildlife enthusiasts. Much of Corbett's life remains enigmatic, though two biographies have been written about him and he has been the subject of several films.
Through the lens of fiction, Stephen Alter shows us the man behind the legend and explores both the shadows and the sunlight of his jungle world.
The Dalliance of Leopards
A sweeping international thriller that explores the geopolitical fault lines of South Asia.
Colonel Imtiaz Afridi, India's legendary spymaster, has zeroed in on a new threat emanating from the borderlands over which he keeps watch from his surveillance center in the Himalayan foothills. An elusive warlord—faceless, nameless, and known only by his nom de guerre Guldaar, meaning "leopard" in Urdu—has built an illicit empire throughout the lands that Alexander the Great once conquered, based on extortion, money laundering, corruption, and murder. His reach extends across national boundaries, and with support from elements in the CIA and Pakistan's ISI, he plays tribal factions and sovereign nations off each other and threatens to destabilize the entire, nuclear-armed region.
Seizing on Guldaar's one vulnerability, his ex-lover living with their son under CIA control in the United States, Afridi calls on agent Annapurna "Anna" Tagore to spring her loose and return her to India, where he needs her help to lay a trap. Meanwhile, when an American journalist reporting from Pakistan comes too close to the inner workings of Guldaar's empire, he is kidnapped by the Taliban and traded to the warlord as a hostage. As Afridi closes in, the American will become a critical bargaining chip in Guldaar's ruthless battle for survival.